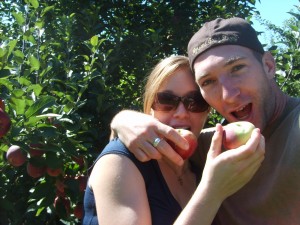 Hey everyone, I would like to welcome you to Livelovegetfit.com.  My name is Joe Malone, and I am the founder of this site.  With so many health and fitness resources out there, you may be asking, "Why should I listen to this guy"?  Good question!  To answer it, let me tell you a little about myself.
  <<<<That's my wife Jess and I
My background is in Physical Education.  I have a degree from The Sage College of Albany, where I graduated with a 3.89 GPA.  A lot of people think that going to school for Physical Education means that we are spending the days playing basketball.  That is not at all the case.  While I did take electives to learn how to properly teach various sports and activities, I also studied Kinesiology, Anatomy and Physiology, Exercise Physiology, and more.  I have studied how the human body works, and how to effectively train it in order to achieve your desired goals.  A lot of people have asked me if I am a certified personal trainer.  No, I am not.  Having the 4 year degree, I have never really seen the need to pay a few hundred dollars for a piece of paper that takes a fraction of the work that my degree took.
I went into Physical Education because I have always had a passion for being active, and I would love to teach people how to live happier, healthier lives.
You will find a lot of information about Beachbody programs on that site.  That is because I am a Team Beachbody Coach.  I promote Beachbody's programs because I have used many of them, and everything that I have seen is high quality.  I have helped people across The country Become Team Beachbody Coaches, and people around the world get fit!