Does anybody know where I can Buy Beachbody's 21 Day Fix?

I keep hearing that question, and here is the answer.  Seeing as how it is a Beachbody program, you need to buy The 21 Day Fix from a Team Beachbody Coach, like myself.  How?
People are going CRAZY over this program.  What is so great about it?  Why did it sell more copies upon it's launch than P90X3 and T25?  I really believe that it is the simplicity of the nutrition system.  The portion control system that Autumn Calabrese has created is simple and effective, 2 things that people love.

Where Can I Buy The 21 Day Fix In Canada?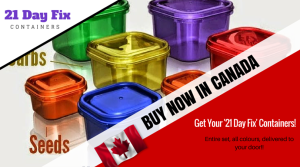 People looking for Beachbody's 21 Day Fix in Canada are in luck!  Beachbody now ships directly to you.  So, you can simply order on this page, just like in the United States, and order the program right to your house.  It's that simple!  Just click the link below to order The 21 Day Fix if you live in Canada.
Beachbody now ships The 21 Day Fix to Canada!  Even better, you can now become a Beachbody coach in Canada!  That means that YOU, yes YOU, can share the programs and products with others, and make an amazing 25% commission.  Making money helping people get fit, what more could you ask for?  CLICK HERE to learn more about becoming a Team Beachbody Coach.
Where Can I Buy The 21 Day Fix in Stores?
Like most Beachbody programs, The 21 Day Fix is NOT available in stores!  Whether you are looking to buy the program in the United States or Canada, you must order through a Beachbody Coach like myself.  CLICK HERE to Order The 21 Day Fix.