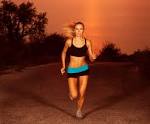 I don't know about you, but sometimes night time is the only chance I can squeeze in a run.  With the days being shorter right now, you have less hours of daylight to hit the roads.  With the limited light, it is important that you are taking the proper precautions to make sure that you are safe on the roads.  Here are some rules to help keep you safe on those dark runs.
Stand Out – The darker the clothes, the harder you are to see.  There are tons of great choices for bright and/or reflective running gear.  Here are a few items worth checking out.

Map a Route – Try to plan a route that is well lit and populated.  You don't want to end up in a dark place with nobody around.  This is especially true if you do not have a cell phone with you.  Even if you don't get mugged, you may roll an ankle and need someone near by for help.
I.D. Yourself – Years ago my wife bought a runner I.D. bracelet, and I wear it every time I go out for a run.  It has my name, who to contact if I am hurt, and that I have asthma.  You never know what may happen while you are out.  There are some different option that you have to make sure that you are identifiable if something were to happen.  Here are some good ones.  You can also check out RoadID.com.

Listen Up – You may be one of the many people that needs their ipod when they go for a run.  That is fine, but keep one ear bud out.  This will help you hear cars, people, and anything else you need to be aware of in your surroundings.
If possible, run with a friend.  I know that it can be challenging since people run at different speeds, but if you can find someone to run with, do it.  There are running clubs pretty much everywhere.  Just do quick search online.  You also may want to try Meetup.com.
Some other article that you may be interested in include;