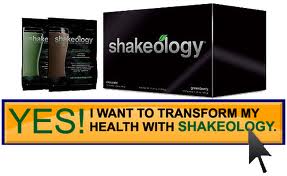 If you are looking for a protein shake, is Shakeology the right choice?  If your sole purpose is for a protein shake, there are much cheaper options that provide more protein.  With that being said, if your goal is to put on lean muscle mass, Shakeology may not be a protein shake, but it can be a crucial part of your fitness journey.  I learned this first hand.  First, let's look at why Shakeology is NOT a protein shake.
Is Shakeology a Protein Shake?  No, but it Still Rocks!

Most protein shakes out there contain anywhere from 30 to 60 grams of protein per serving.  The reason that I do not think of Shakeology as a protein shake is because it only has 17g.  You can spend less and get more protein with other shakes.  However, there are some big advantages that Shakeology has over those shakes.
The Ingredients – Shakeology is essentially a bland of 70+ fruits, vegies and herbs.  It is not loaded with the artificial fillers that a lot of the protein shakes are filled with.  It may be expensive, but you are getting high quality.
Various Protein Sources – Most protein shakes are either whey or casein.  The standard flavors of Shakeology use whey and pea protein, along with a lot of fruits and vegetables that protein in them.  You are getting  mix of protein sources, which your body will love.  The Vegan Shakeology flavors do not have whey, but they use fermented sprouted brown rice, which is an excellent, natural protein source.
For an average individual looking for a great source of protein, Shakeology will do the job.  However, if you are like me, looking to put on some real mass, Shakeology is just part of the program.  I spent years trying to put on weight.  I tried heavy lifting, eating everything in site, and of course, protein shakes.  NOTHING!  Finally I decided to add Shakeology into my regimen.  I used Body Beast as my workout program, drank a protein shake right after my workout, Shakeology as a snack later in the day, not to replace anything, but in addition to my diet.  From December 10th, 2013 to March 20th, 2014, I went from 176 lbs to 190 lbs!  To top it off, my waste didn't change.  I put on muscle where I wanted it, and Shakeology was a big part of it.  Not only was it an extra 17g of high quality protein, but the incredible nutrients in the shakes gave my body what it needed to build the lean muscle I was looking for.