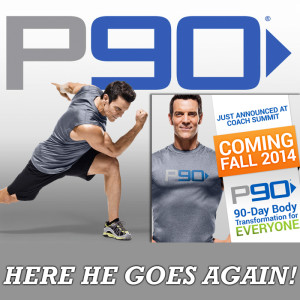 Everyone has heard of P90X.  After all, it is the number 1 selling fitness program in the world.  BUT, is it designed for people to fail?  Obviously that was not the goal when they created this program, and not everybody fails to complete the intense 90 day fitness program.  However, of the dozens of people that I know that have purchased the program, very few have completed it.  In fact, most of them have not made it past week one.
P90X – The Problem
Why is it that so many people call it quits so quickly with this program?  The truth is, the workouts are amazing.  The "muscle confusion" principal that Tony Horton uses really targets you muscles for maximum results.  The nutrition guide gives you a ton of healthy recipes, and once you buy a program, you have a personal Beachbody Coach assigned to you (me if you ever order through this site).  That all sounds great!  So I ask again, why do people throw in the towel.  The answer is pretty simple.  P90X is TOUGH!  It is considered an extreme workout program.  While they do offer modified moves, and they emphasize that you should go at your own pace, many people feel that they have failed when they can not do what they do in the videos.  Personally, I struggled the first few weeks, and I have a background in fitness.  I felt defeated, but I stuck with it, and am very thankful that I did.  However, most people do not.
The Solution – P90
In P90X, the "X" sands for "Extreme".  Beachbody saw that a lot of people were struggling, so they dropped the "X" and created P90.  Check it out.

Fill Out The Form Below To Know As Soon As P90 Is Available

P90 is designed for ANYONE looking to get fit. It is not extreme, but it is effective. Tony is one of the most renowned trainers in the world, and he doesn't mess around. As always, this program is going to be than just the workouts. It will include a full nutrition guide, access to Beachbody's online community, and access to a personal Beachbody coach (me).